Decrease the time you spend managing your UC infrastructure by 85%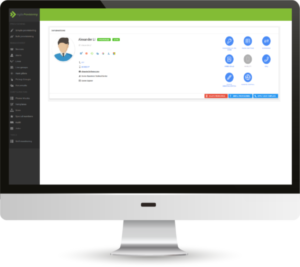 Agile provisioning is designed to simplify daily MACDs (Move – Add – Change – Delete) of your Unified Communications platform. Using a smart template engine, any change is applied in the same way whoever is the person who carries out the work. No matter if the modification is made by a helpdesk engineer based in Singapore or by a local administrator based in the United States, this modification is compliant with existing standards defined within the organization.
Any provisioning takes less than 30 seconds and the user provisioned is immediately ready to work using his collaboration tools. A deprovisioning of a user who leaves the organization is even faster.
Your Unified Collaboration and Communications platform is composed of on-premises features combined with cloud-based services ? You can keep one unique application to manage the "2 worlds". Agile Provisioning can support for example both historical on premise CUCM plus Webex meeting features, or on premise Cisco UCCX plus Microsoft Teams voice capabilities. Moreover, migration capabilities allow you to gradually decommission on premise user features to the cloud
Agile Provisioning includes many options to give to end-users the possibility to change their preferences and settings about their own telephony workspace. A selfcare is provided by default and can be easily activated, meaning that there is no need to install additional module or additional license.
The selfcare can be customized according to specific customer branding by including specific theme and logo. Device button preference, screen background, forward management, PIN and password reset, mobility activation, voicemail greetings…are examples of features that can be configured in selfcare.
The solution embeds an advanced profile engine dedicated to delegation capabilities. It reduces time and costs associated with MACD's operations.
Provided with predefined permissions, you can quickly adapt privileges and scopes so that you can choose which features and which options can be changed by local administrators, helpdesk teams, managers and even end users. Any change performed through the solution is audited and can be reverted. Your Unified Communications and Collaboration engineers can thus be focused on added value projects.
Because your Unified Collaboration and Communications platform is continuously evolving, Agile Provisioning is designed to quickly meet your business requirements: there is no need to adapt the environment to fit the solution, it is the solution that adapts to your environment.
For examples no need to install additional package when you decide to upgrade UC platform, no possible data desynchronization between the provisioning tool and the telephony platform, no additional professional service to create new templates or new customized access profiles…
Agile provisioning is built to be fully integrated with your IT environment. Digitalize your recurrent business process and automate minor changes. Delivered with plenty of native connectors included, the solution also embeds high level Web Services methods to simplify interfaces with third party applications.
An orchestrator engine is included into the solution and allows to integrate easily your business rules. Automation with Service Now or other ITSM is thus simplified.