The Agile Provisioning solution is designed to simplify changes to your telephony infrastructure. Advanced tools for delegating rights and automating recurring processes, reduce the time and costs associated with daily operations.
Completely integrated into your information system, sensitive management tasks are executed in complete security.
Agile Provisioning can dramatically reduce the complexity and time to deploy Cisco IP phones, together with the full range of collaboration services. As new people are added to your organisation or when changes are needed, it's essential that users are productive as quickly as possible. Agile Provisioning will ensure your employees are operational in a fraction of the time. In reality, this could reduce the time to deploy from hours to minutes per user.
Collaboration services such as Mobility, Presence and Voice mail can be applied through a single, pain of glass web portal.
Agile is a user-friendly, intuitive tool, meaning that you are not dependent on a network administrator to carry out the work. Less experienced and fewer operations staff, are able to ensure business continuity and drive higher levels of productivity. As Start-up, SMB or large Enterprise, Agile will transform the way you manage the productivity of your organisation and help drive down the cost of IT admin.
Our solution also offers other advantages with its native features :
Self-care included with provisioning solution: Allowing employees, by granting them limited rights, to be able to modify certain "secondary" parameters themselves, such as changing their password, setting up call forwarding, modifying their phone's buttons, activating voice mail, managing the activation of the "Single Number Reach" during office hours.
Device model migration : Functionality that allows to save parameters, settings and shortcuts of old phone models to new phone models
Device remote control: Allows a support team to take remote control of phones for support purposes
UCCX skill monitoring: Agile Provisioning feature that allows call center supervisors to manage the skill level assigned to agents and thus the handling of queues in the call center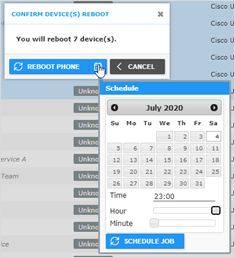 Job scheduler : Ideal for technical teams, this feature allows you to schedule the execution of certain operations outside of working hours, for example, schedule a phone reboot or apply a security certificate update to the phone. The next day, see if the scheduled tasks were successfully completed with the embedded audit log
Hunt pilot number monitoring: Useful for supervisors or managers, this feature allows you to manage your Cisco "Hunt Pilot" call groups in one click. You are no longer dependent on a telephony administrator to assign a user to a call group, simplified drag and drop features allow you to quickly move your users from one group to another and you can change the status of agents.
Real time status device: Allows you to see in real time details about the status of your different phones. At a glance you can check if your phones are functional.
Advanced search tools like orphan device: Allows you to see at a glance which of your devices are orphaned, or do not match your configuration standards. Quickly locate devices that are not configured for call recording
Clear user work space: In one click, clean the complete phone environment of a user who leaves the company: free his line, unassign licenses, delete his softphones from the phone platform, delete his voice mailbox.